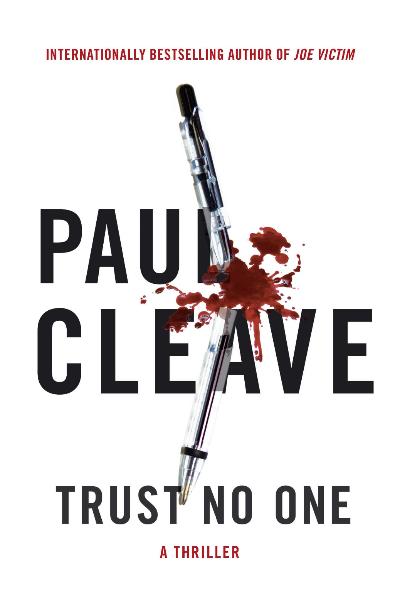 TRUST NO ONE by Paul Cleave (Upstart Press, 2015)
Reviewed by Mark McGinn
Some crime novels leave us with the main character in our heads long after we've finished the story. Jerry Grey, in TRUST NO ONE, is one of those characters.
Crime novel readers enjoy the detectives, the lawyers, the private sleuths, all invariably overcoming an antagonistic force. If they didn't, we wouldn't keep writing those stories, striving to tell them in unique ways, tweaking and dialing up tension with innovation. Sometimes evil wins, most times not. Some leave us with the main character in our heads long after we've finished the story. Jerry Grey, in TRUST NO ONE, is one of those characters.
Ngaio Marsh Award winner Paul Cleave's latest novel is no ordinary crime story. It is a psychological thriller, as far away from something formulaic in the genre as it's possible to be. And, in my view, also daring. This story doesn't just show insight into what living with Alzheimer's might be like. Cleave gives us Jerry Grey's painfully frustrating life in all its horror – moments of lucidity followed by desperation. In his unique style, Cleave answers the question about what it's like for someone in the grip of a disease that wipes the brain of the very thing that allows him a living – cognitive function.
Does it work? Big time! Not just because Cleave cleverly unfolds a thriller plot, constantly engaging the reader. In embracing a tough theme, he balances incredible empathy for the protagonist (and by implication, others with this disease) and he does so with the dry and dark humor ubiquitous across his other novels.
Cleave has said he struggled to come up with any title by the time he submitted his manuscript. In the end, TRUST NO ONE was suggested by publisher Atria (an imprint of Simon and Schuster), and when you read it you'll agree it's the right title for the story. Who can you trust when you can't trust yourself?
As an attendee of the 10th Thrillerfest Conference in New York in early July, I was sent a digital copy of this book – a great marketing idea by the publishers but also a 'big balls' display to promote this book as, essentially, a thriller for thriller writers – my words, not theirs. So it was particularly interesting to hear DP Lyle MD give Cleave's book a huge rap in a craft session at that conference. You only need to run Lyle's name through Google to see his credibility.
I'm not revealing a lot about this great story. It opens with Jerry Grey confessing to killing 'Susan with a z' and no one believing him. His audience is convinced Jerry's recounting a tale from one of his books. In fact people don't believe Susan with a z, has ever existed. Poor Jerry. A successful crime writer of twelve books whose pen name is Henry Cutter. One day a devoted family man, the next – shipped off to a nursing home 15 miles out of the city. At 49 years of age and with early onset dementia, it can't get much worse than this, can it? With Cleave at the keyboard, fans of his previous eight books will know that's a rhetorical question.
Has Jerry really become a killer? Is this appalling disease really driving him to act out Henry Cutter's tales, rendering him unable to recall details the crime writer inside him knows are vital? Or is he, at heart and head, a clever killer with the ability to deceive. Some characters in the book certainly believe the latter.
If Cleave tormented Jerry Grey, his family, his friend Hans, his neighbors and the police in (mad as) "Batshit County", he certainly doesn't spare his readers. I was convinced he was playing with our minds too when he introduced an uncommon way of writing, a way that works beautifully for this story. We see Jerry's/Henry's point of view in the first person, second person and third person. Cleave craftily introduces Jerry's "madness journal" to do so, creating a contemporaneous record in the form of a diary, which Jerry completes across the course of the novel. It begins with the awful realization that 'Captain A' is charting 'Future Jerry's course.
Here's a short sample of this journal, written after Jerry woke to see an obscenity spray-painted on a neighbor's house:
"Naturally she came over and banged on your door. Of course she did. You're the go-to guy when people have obscenities painted on their walls. Somebody spray-painted the word asshole on your door? Go see Jerry. Fucktard on your letterbox? Go see Jerry. Shitburger on your car? Go see Jerry."
I won't spoil the nice twist at the end of that journal's entry, but despite the humour, I couldn't help but connect to the distress of uncertainty someone must go through in these circumstances. You'd hope you wouldn't be guilty, but you can't rule it out!
As a writer, I enjoyed references to the writing craft: people asking where you get your ideas from, the editor's concerns, the writer's self-doubts, getting stuck, getting well through and realising a significant rewrite is on the cards (yes, I know you outliners claim not to have the last two), last year's book not that well reviewed. It's all there, and appropriately so, given Jerry's living and the fact that it's all coming to a premature end.
I know this won't be the end of Cleave's crime writing, but many will understandably ask how he tops, TRUST NO ONE. Having taken a year to recover from writing this book, he may even ponder that himself. For someone whose business is to entertain, let's not bother to ask that, but appreciate that we, his readers, are the reason Cleave likes to make bad things happen. Let's have more bad things!
Mark McGinn has published three novels. Based in Christchurch, he worked for many years in the New Zealand court system, and now spends his days writing, enjoying sport, reading crime novels, and with U2 in his ear, trying to minimise the excesses of red wine and chocolate on an exercycle that looks like a dark age instrument of torture. You can find out more about him and his writing here.